NEW Nano printex automated textile press
We are very excited to introduce an all electric/mechanical drive textile press to our equipment line. Taking our knowledge and technology from the precision graphic printing side and applying it to textile applications, we're very proud to introduce the Grafica Nano Printex. Available in various configurations from 4 up to 12 colors, we have eliminated the cost and bother of running air, replaced it with solid smooth and QUIET independently controlled electrical motors, and designed a press from the ground up from a printer's perspective.
Features include quick release aluminum pallets, variable peel, and off contact, Individual head controls, preregistration system, simplified pictoral controls and interfaces, enclosed mechanicals, multiple squeegee/floodbar/stroke options, footswitch and fully automated functions, range of optional production tools.
SPECIAL INTRODUCTORY PRICING – Automation is more affordable than you think! Save your back, take on bigger orders, let us help you grow your company and improve your printing.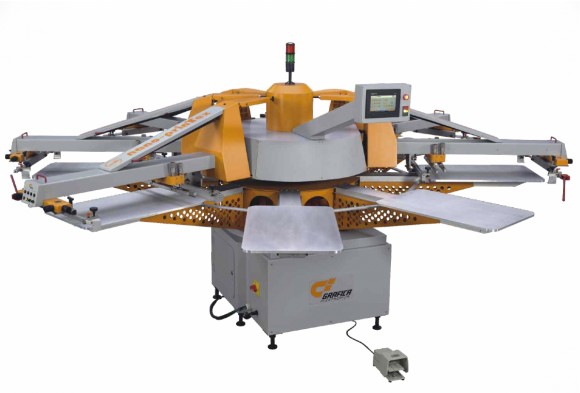 Nano Printex automated textile press from TMI Screenprinting Go back to the complete catalogue